ISA Intech Gold Innovator Award; ELDS Gas Detector
Product Announcement from Senscient Inc.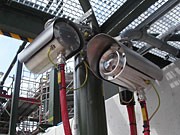 November 5, 2009 - The International Society of Automation (ISA) named Senscient, Inc. as the winner of its Gold InTech Innovator's Award. The award was presented at ISA EXPO 2009 in Houston.
The InTech Innovator's Awards recognize companies that have made significant and unique contributions to any field in the automation profession. These contributions include, but are not limited to, design, development, equipment, instrumentation, or an innovative service or contribution in automation.
Gold winner Senscient was recognized for developing the first new hazardous gas sensing technology in 20 years for industrial safety applications. Using the patented Enhanced Laser Diode Spectroscopy (ELDS™) technology, Senscient's Series 1000 and Series 2000 ELDS open path gas detection systems provide the first and only open path systems for low ppm levels of both hydrocarbon and toxic gas detection.
Senscient ELDS open path gas detector (OPGD) systems are presently operating for field evaluation at select customer locations, with commercially available FM-approved units shipping now.
About Senscient Inc. http://www.senscient.com/

Senscient manufactures and markets advanced gas detection products for industrial safety, risk management, environmental monitoring, and process analysis applications. The technology that meets the demands of these applications is "Enhanced Laser Diode Spectroscopy," a truly revolutionary open path gas detection and measurement technology available in the Senscient ELDS line of open path gas detectors.
About ISA http://www.isa.org

ISA (International Society of Automation) develops standards for automation technology; certifies industry professionals; provides education and training; publishes books and technical articles; and hosts conferences and exhibitions for automation professionals. ISA is the founding sponsor of the Automation Federation.
---