Open Path Gas Detection - Senscient ELDS™
Product Announcement from Senscient Inc.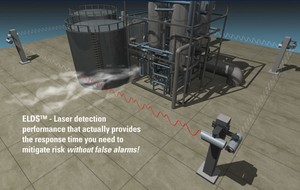 1. Three (3) orders of magnitude (1000 X) better sensitivity for hydrocarbon gases.
Traditional NDIR OPGD (open path gas detection) limits of detection are 0.5 LEL meter. That's 25,000 ppm.meter at its lowest point versus Senscient ELDS™ Minimum Reliably Detectable Quantities of about 2 ppm.meter! With ELDS the customer gains time to initiate remediation procedures for avoiding - or virtually eliminating - the possibility that gas leak levels ever reach explosive thresholds. With Senscient, it is now possible for users to monitor and track atmospheric levels of gas and actually watch the progress of a gas leak as it occurs. Awareness of target gas concentrations at low levels can add literally hours of time to either determine the source of the leak, or simply to shut down a hot spot where the gas cloud is forming to prevent an accident.
2. Single Digit ppm.meter detection of toxic gases in the OPGD configuration.
ELDS is the first open path gas detectorthat is certified for the selective detection of both flammable and toxic gases and comes with a no false alarm guarantee. Until now, false alarms have been the bane of OPGD, costing companies countless hours of man power and downtime.
3. Harmonic Fingerprint technique makes gas detection species-specific on a molecular level for absolute selectivity while eliminating false alarms of any kind.
Patented Senscient technique uses sophisticated microprocessors and algorithms that are integrated deep into the harmonics of the open path signal. Harmonic Fingerprinting enables unique and interference-free identification of the target gas (and ONLY the target gas!).
4. ELDS offers the ability to simultaneously detect two gases with dual isolated out put signals for applications such as sour gas (Methane + H2S).
Resulting cost savings for a multi-gas detection system can be as much as 60% lower in Capital Expenditure than traditional gas detection products for the customer.
5. No more test filters, no more gassing cells, no hazardous calibration gases in the field, no technician time.
Harmonic Fingerprinting, together with an Internal Target Gas reference cell, provides another Senscient patent called SimuGas™. SimuGas enables remote, electronic, and automatic gas detector functionality confirmation. This eliminates the need to replace electrochemical cells, and all associated labor and risk factors... no more gas calibrations in the field by the technicians with hazardous gas cylinders and PPE (Personal Protective Equipment).
6. Substantially better obscuration and misalignment tolerance, easier setup.
ELDS OPGD remains in full operation, even in conditions causing up to 98% obscuration of the beam - resulting in much improved operation in fog, rain, snow, dust, and blowing sand. Traditional NDIR systems will often drop into beam block or can false alarm with obscuration and misalignment levels of approximately 60% reduction in signal intensity.
7. The ELDS System offers 0-20 mAmp analog outputs with MODBUS and HART communications optional.
8. Integral stainless steel bracket and junction box.
No more separate mounting plates or separate aluminum junction boxes for increased ease of installation and longer lasting components in the field.
9. ELDS OPGD from Senscient is certified both for Hazardous Area Class 1, Division 1, and Zone 1 by FM Global, ATEX and CSA, AND is also Performance Approved by FM Global and ATEX.
Senscient customers can rest easy knowing that their ELDS system is unique in its compliance with both the safe operation and the performance of the instrument per the most current, premier industry standards, AND that the system operates per our published specifications.
10. Senscient ELDS technology developed by Lee Richman.
The Senscient team is lead by Lee Richman with more than 25 years of experience designing and producing market-leading open path gas detection products used by all major global Oil & Gas companies.
Senscient - Fulfilling the promise of Open Path Gas Detection
---