Senscient ELDS OPGD Series 1000 Ammonia
Product Announcement from Senscient Inc.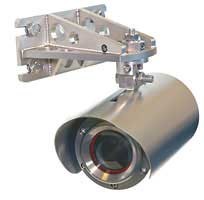 Senscient ELDS OPGD Series 1000 Ammonia
Reliable, open path detection of ammonia at levels low enough to provide early warning for leakage of this highly flammable gas. Detection Limits for ammonia leak detection are orders of magnitude lower than any other OPGD product.
Specific detection of Ammonia without any cross interference from any other gases virtually eliminates false alarms.
True ease-of-installation, with vibration and misalignment tolerant optics.
SimuGas™ feature provides ability to accomplish on-demand, remote functionality testing right from the control room or PLC!
316L Stainless steel construction designed to provide maximum corrosion resistance for installation in sea and land-based Hazardous Area facilities.
Applications:
Onshore Petrochemical, Pharmaceutical, Agricultural, Industrial Refrigerants and mid-industrial facilities.
Theory of Operation:
Using a separate transmitter and receiver configuration, Senscient ELDS Series 1000 Ammonia OPGD systems can detect and measure ammonia over distances between 5 and 120 m. The ELDS technique measures the Harmonic Fingerprint introduced onto the transmitter's laser beam(s) by absorption by any target gas in the monitored path.
• Download Senscient ELDS™ Series 1000 Ammonia Product Data Sheet
---