Color & contrast sensors
Featured Product from SensoPart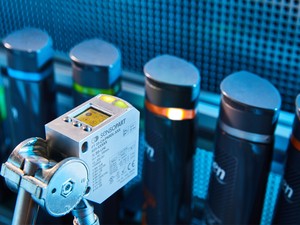 Color & contrast sensors
The attachment of color marks that are then evaluated with a color or contrast sensor is a proven method for identifying objects in industrial production. Even objects with differing shapes and surface properties can be very reliably detected in this way.
Color sensors
Sorting packaging or checking different labels
Detecting colors and color ranges on packaging and film
Contrast sensors
Detecting printing marks with the subtlest variations in grey values in the printing and packaging industry
Checking labels and stickers in the printing industry
Luminescence sensors
Detecting labels on glass bottles
Detecting invisible printing marks for object alignment
Reliable detection and differentiation of colors
Differences in color and contrast are important characteristics for the detection and differentiation of objects. Sensors from SensoPart reliably detect colored objects, prints and labels during production processes or quality assurance.
Our color and contrast sensors are suitable for almost every relevant automation task thanks to precise color evaluation and rapid cycle times. The compact FT 55-CM color sensor is particularly versatile, offering outstanding color detection and sorting even with challenging surfaces. Our portfolio also includes sensors suitable for special tasks, such as the identification of invisible, luminescent color markings. Our vision color sensors from the VISOR® Color series fulfil the highest requirements in terms of color detection. They offer very high color selectivity and can also detect active (self-illuminating) colors.
Watch>>SensoPart Company Presentation
SensoPart
SensoPart is one of the leading manufacturers of photoelectric sensors and image processing for factory automation. Our aim is to remain one step ahead to be able to offer our customers the most innovative products on the market. In this way we help them to pave the way to the digital factory. In order to maintain our ability to offer the latest technologies, we invest more than usual in research and development and work together with renowned universities and research institutes. Successful products, now considered indispensable for modern factory automation, have been created from the many futureoriented ideas of earlier days. But we do not simply rest on our laurels – because we still have many ideas for the future.