Portable X-Ray Generators-LLX160-DA
Product Announcement from Sentinel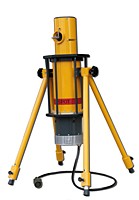 BALTOSPOT Series - LLX160-DA
The BALTOSPOT Series is comprised of three divisions of directional and panoramic x-ray generators with varying specifications corresponding to different NDT applications, field activities and budgets.
The LLX160-DA is a portable high frequency constant potential x-ray generator with a maximum capacity of 160kV. It contains a metal ceramic x-ray tube head with a very small focal spot size, and the LLX's advanced technology allows for optimum efficiency. Equipped with the latest software functions, operating the LLX is quick, easy and safe. It's size and shape make it ideal for aerospace applications where space is restricted.
The LLX160-DA provides an average higher output current than pulsed wave generators due to the DC nature of the high voltage generated. This allows for a constant precise output of kilovolts even at a very low kV. As a result, the LLX can be used with traditional film or digital radiography.
The LLX160-DA can be controlled by the DC1 control unit which is derived from the CF2000, but more suitable for a constant potential x-ray generator. Or, the Hand X remote control can be used to operate the LLX from a safer distance.
Features
Portable
Available in fine & very fine focal spot sizes
100% Duty cycle
Metal ceramic tubehead
Widest range of mA available
Efficient cooling
Constant potential high voltage generator
Energy saver
---