FS6122 Bi-Directional Medical Respiratory Sensor
Featured Product from Servoflo Corporation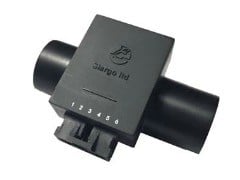 The FS6122 is a medical respiratory sensor to measure from -250 to +250 SLPM with a linear analog output or I2C output. A gauge pressure sensor is integrated into the FS6122 with a range of -5 to +40 cc H2O with a linear analog or I2C output. NEW - optional humidity and temperature sensors now available to be included inside the FS6122.
Features
Mass flow ranges from -250 to +250 SLPM
Pressure sensor integrated into package
Typical response time of 5 ms
Low power consumption
Power supply of 5 VDC
Optional inclusion of a humidity and temperature sensor
Save space in your design with integrated sensing in one package!