How to Pick a Pressure Sensor E-Book
Featured Product from Servoflo Corporation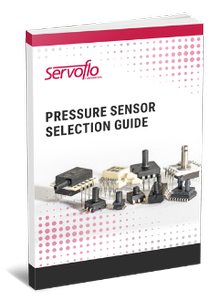 When selecting a pressure sensor for a specific application, designers must first determine the total system accuracy required, as well as the performance requirements for the lifetime of the product.
Like a bathroom scale that is used day after day, a pressure sensor's output may vary over time. The amount of drift depends on the specification given by the manufacturer. Other factors, such as humidity and operating temperature range, can also affect the accuracy of a pressure sensor, regardless of which type of sensor you purchase.
Additional key considerations should be kept in mind, including:
Resolution versus precision when determining accuracy requirements
Understanding sensor choices - calibrated vs uncalibrated, compensated vs. uncompensated
What capabilities do we have to calibrate a pressure sensor
Learn More
To learn more about pressure sensors and the various options available for your application, download Servoflo's comprehensive e-book on How to Pick a Pressure Sensor.