New Boost LED Driver ZSLS7025
Product Announcement from Servoflo Corporation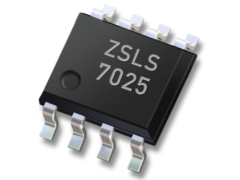 The ZSLS7025 is a constant current boost converter designed for driving high-brightness LEDs. It is optimal for driving multiple white LEDs connected in series so that the LED current is uniform for better brightness and color control. The wide input range and high output current enables diverse industrial, after-market automotive, and consumer lighting applications.
The ZSLS7025 output current is adjustable via an external current sense resistor and can deliver stable constant output current from a few milliamps up to 2A or higher.
The ZSLS7025 drives a constant current into the load. The control loop features a pulse frequency modulated architecture that is inherently stable and does not need loop compensation. PWM or linear voltage dimming is supported, which allows flexible control of the LED luminance.
Benefits
High efficiency, up to 95%
Minimum bill of materials
Small form-factor package
Typical Uses
Low voltage, retrofit lighting
MR 16 lights
SELV lighting
Signage and outdoor lighting
Architectural/building lighting
Replacement tubes
LED backlighting
General purpose low-voltage industrial and consumer applications
---