New ZSPM4011 Power Management IC
Product Announcement from Servoflo Corporation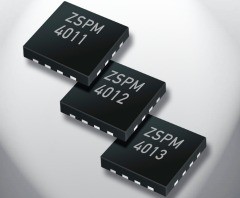 The ZSPM4011 is a DC/DC synchronous switching regulator with fully integrated power switches, internal compensation, and full fault protection. The switching frequency of 1 MHz enables the use of small filter components, resulting in reduced board space and reduced BOM costs.
The ZSPM4011 utilizes current mode feedback in normal regulation PWM mode. When the regulator is disabled (EN is low), the device draws less than 10 uA quiescent current.
A wide range of protection circuitry is included: input supply under-voltage lockout, output voltage soft start, current limit, and thermal shutdown.
Supervisory reporting through the power good open drain output interfaces to other components in the system.
Benefits
Increased battery life
Minimal external component count (3 capacitors, 1 inductor)
Inherent fault protection and reporting
Features
Fixed output voltages: 1.5V, 1.8V, 2.5V, 3.3V and 5V with ±2% output tolerance
Adjustable version output voltage range: 0.9V to 5V with ±1.5% reference
Wide input voltage range of 6V to 24V
1 MHz ±10% fixed switching frequency
1A continuous output current: High efficiency - up to 95%
Input supply under voltage lockout
Soft start for controlled startup with no overshoot
Full protection for over-current, over-temperature, and voltage output over-voltage
Low external component count
Packaged in 16 pin QFN
Find out the complete specification on this DC-to-DC converter IC.
---