ZLED 7002 Toggle Dual Channel LED Driver
Product Announcement from Servoflo Corporation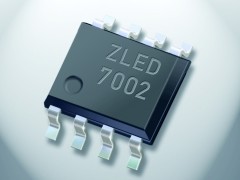 The ZLED7002 toggle (side-step) dual channel LED driver operates in the lower DC voltage supply range of 2.7 to 5.5V. This unique LED driver is capable of controlling a MAIN channel and a SUB channel. Typically, only one of the two channels is active and the ZLED7002 led driver toggles between the channels automatically in response to the voltage supply level and the related voltage at the UV (under-voltage protection) pin. A high-to-low transition of the power supply causes the output current to switch from the MAIN channel to the SUB channel if the UV pin voltage is below the ZLED7002's under-voltage threshold. A low-to-high transition switches the output current from the SUB channel to the MAIN channel if the UV pin voltage is 80mV (typical) above the under-voltage threshold.
The ZLED7002 led driver enables voltage-level indicator applications and low power battery-driven lighting applications that require switching to a lower-current LED channel when the supply is low, which extends the lighting life-time. Because the dropout voltage is minimal (as low as 0.1V when the MAIN channel output current is ~200 mA), the ZLED7002 is optimal for battery-powered applications. Capable of operating efficiently with DC voltage supplies ranging from 2.7V to 5.5V, it is ideal for small portable lighting applications.
The ZLED7002 can also reduce bill-of-material costs because very few external components are required for most applications, making it an optimal fit for small devices for which lighting lifetime is critical. Only four resistors, a diode, and a capacitor are needed for a typical basic application. An evaluation kit is available.
FEATURES
Automatic MAIN channel short-circuit protection switches the output current to the SUB channel if the MAIN LED is shorted
Under-voltage power supply detection
Over-temperature protection
BENEFITS
Extends lighting life-time by switches to a lower-current LED channel when the supply is low
80 mV (typical) hysteresis prevents unintended switching activation due to power supply ripple
Ultra low quiescent current 250µA typical
Very few external components needed for operation
TYPICAL USES
Helmet lighting
Head/tail lights for bicycles
Miner lamps
Pocket lights
Various other general purpose low-voltage industrial and consumer LED applications
---