LIQUISCAN VF+, Metal Separation System
Featured Product from Sesotec GmbH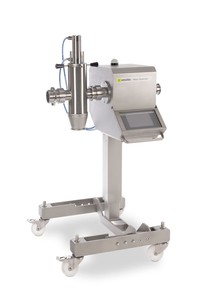 LIQUISCAN VF+ metal separation systems remove magnetic and non-magnetic impurities (steel, stainless steel, aluminium etc) from pumped, liquid and paste products. It is easily mounted won vacuum fillers and pumps.
When metal is detected the valve reject mechanism removes the contaminant into a container. The cut-off air-operated valve is ideally suited for all paste products (sausage meat). The air-operated ball valve is particularly useful in filling applications which contain coarser material (eg ham sausage).
LIQUISCAN VF+ metal separators are supplied mounted on a mobile, height-adjustable stand. The system has a low centre of gravity and is highly stable, even when being moved.
Advantages
Various thread systems and quick connections are available to provide connection to all types of conventional fillers and pumps
Impressively small installation envelope (RZ coil technology)
Designed for easy cleaning in high-strength stainless steel