LiFePO4 3.2V/115Ah Battery
Featured Product from Shandong Goldencell Electronics Technology Co., Ltd.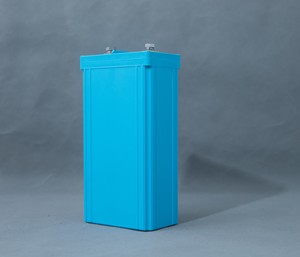 The first-class production equipment is being used in lithium power battery pack assembly line that produces several series of 18650, 26650 lithium battery.The capacity of Heter is 5 million Ah per month. The production can be widely used in UPS, EVS electric cars power tools, instruments, etc. Due to stable quality and superior performance, it is an ideal green power energy.
HETER -3.2V/100AH Battery
Size: 125 *75*252 (mm)
Specification:
ITEM SPECIFICATION
Cell assembled mode 32P1S-26650
Typical Capacity 100Ah@0.2C,25?
Minimum Capacity 98Ah@0.2C,25?
Nominal Voltage 3.2 V
Charging Ending Voltage 3.65±0.1 V
Discharge Ending Voltage 2.0±0.1 V
Standard Charging Current 20A
Standard Discharge Current 20A
MAX Discharge Current 100A
Internal Resistance <2.5mΩ
Weight 3.45±0.2kg
Vibration test
Pack installed onto the vibration desk with clamps. Equipment parameters are as follows:
a: direction: up and down single vibration
b: frequency: 10?55Hz
c: max acceleration: 30m/s2
d: amplitude: 0.38mm
e: time: 2 hours.
During the test , Nickel film without shedding ,no scratch, the voltage is OK.