LiFePO4 Rechargeable Battery Pack-48V500Ah
Featured Product from Shandong Goldencell Electronics Technology Co., Ltd.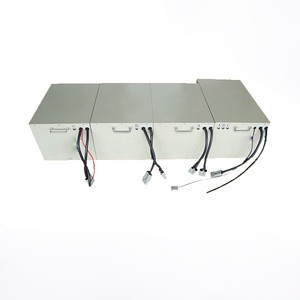 Long cycle life, Ultra-safety, Quick charging and discharging with a large current, Good performance at high and low temperature, no memory effect, environment-friendly
Specification:
1.Cell assembled mode:3P16S-170Ah
2.Typical Capacity:510Ah(0.2C,25?)
3.Minimum Capacity:500Ah(0.2C,25?)
4.Nominal Voltage:48V
5.Charging Ending Voltage:58.4±0.1 V
6.Discharge Ending Voltage:40.0±0.1 V
7.Standard Cont.Charging Current:25A
8.Standard Cont.Discharge Current:50A
9.Fast Cont.Discharge Current:100A
10.MAX Cont.Discharge Current:120A
11.Peak Current:150A(<1min)
12.Internal Resistance:<30m Ω
13.Weight:320±10kg
14.Size of the module:587*380*330(mm) Total:1 module.
15.Size of the module:504*380*330(mm) Total:3 modules.