Power Battery 12.8V18Ah
Featured Product from Shandong Goldencell Electronics Technology Co., Ltd.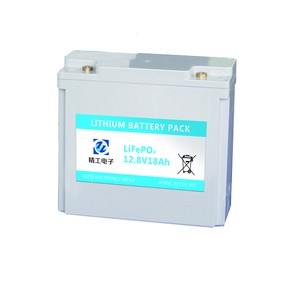 Product Name LiFePO4 battery pack
Product Model 12.8V18Ah
Specifications HT-4IFR12.8-18-Y
Composition 26650-3.2V-4S6P
Nominal Voltage 12.8V
Rated Capacity 18±1Ah C5
Energy 230.4Wh
Internal Resistance ≤50mΩ
Size 181×76×168mm,±1.5mm
Weight 2.8±0.1kg
Voltage Charge voltage is 14.4±0.15V, Standard cutoff voltage is about 10.0V
Charger Current ≤8A
Discharge Current ≤18A
International Certifications
Production Line
Product Concept
1. Select self-made excellent battery single cell.
2. Use the unique integration technology for the battery management system of Heter.
3. Design and fabricate the first class power energy storage system.
4. Provide a complete power source system solution.
Application Range
The product is applied in power battery field such as various electric motor vehicles, electric tools, power drive device and energy storage power source field such as cap lamps, communication base stations, UPS backup power sources, wind and solar power storage.
Shipping:
1. 3~15 working days depending on order quantity
2. UPS, DHL, FedEx, TNT or by sea available
Payment & Term:
1. T/T , L/C, PAYPAL , Western Union or Cash
2. FOBShenzhen or FOBHongKong
Warranty:
2~5years
Additional Services:
1. Custom designed battery packs
2. OEM welcome
Our Advantages:
1.We are the ONLY one supplier approved by China Military
2.Global liability insurance - PICC US $8million insured
3.UL, IEC, CE, MSDS, UN38.3, ISO9001, ISO14969 approved
4.>2000 life cycles @ 100% DD, > 3000 life cycles @ 80% DD