super capacitor 2.7V 30F/2.7V 50F/2.7V 60F
Featured Product from Shandong Goldencell Electronics Technology Co., Ltd.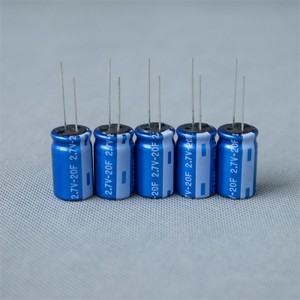 Work Temperature Range?-25?~+70?
Rated Capacitance?1F-400F
Capacitance Offset?-20%~+80%
Rated Voltage?2.7V
Surge Voltage?3.0V
Product Features
The product has high capacitance, low internal resistance, and good consistency;
environment friendly
The product has good high temperature load and high temperature shelving characteristics, which are higher than the level of the similar domestic products;
At room temperature, the product has good discharge performance, and the cycle times are more than 500,000 times, and the product is free of maintenance.
Product Applications
As a power source or a backup power source for:
VIDEO, AUDIO, CMOS, RAM, VCR, camera, printer, handheld scanner, radio, telephone, television, computer, LED display, relay, electronic buzzer, electric toy, consumer electronics, intellectual household appliances, radio communication device, intellectual "three-meter", tax control machine, solar power lamp, toy, electromagnetic valve, LED display screen, electric vehicle, hybrid power car, automotive audio, electric tool, wind electric power generation, industrial UPS, peak power compensation, direct current screen.
Shipping:
3~15working days depending on order quantity
UPS, DHL, FedEx, TNT or by sea available
Payment & Term:
1. T/T , L/C, PAYPAL , Western Union or Cash
2. FOBShenzhen or FOBHongKong
Warranty:
2~5years
Addtional Services:
1.Custom designed battery packs
2.OEM welcome
Our Advantages:
1.We are the ONLY one supplier approved by China Military
2.Global liablity insurance - PICC US$8million insured
3.UL, IEC, CE, MSDS, UN38.3, ISO9001, ISO14969 approved