Flow Sensor---FST-007B
Featured Product from Shanghai Yuanben Magnetoelectric Tech. Co., Ltd.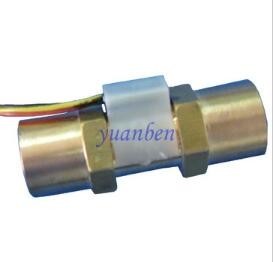 Description
FST-007 series flow sensor is the Turbine wheel flow sensor, developed and manufactured by Yuanben, which is used to start small flow rate system. It can work under wide range power voltage and with small pressure loss.
Features and Applications
Features
Small working flow rate, wide measuring flow range 1~20L/min
Small pressure loss, high accuracy;
Pulse digital signal output;
Brass housing, applicable for high liquid pressure system 3.0MPa Max
Applications
It can be used for water heater, wall-hanging stove (Gas boiler), water dispenser, steaming plant, water treatment equipment, cooling water system, etc.
Technical Parameters
Electrical Connection HX25025-3A connecting terminal or client required
Operating Voltage DC5V
Operating Current 0.5mA
Signal Output Duty ratio50%±10% Pulse signal output
Insulation resistance between Min. resistance value 100M Ω DC 500V
terminal and housing
Electrical duration 2 Years
Working water flow rate (min) 1 L/Min
Working water pressure (min) 0.1 MPa
measuring range and accuracy 2-20 L/Min±10%
Temp. Range -10°C ~ +105°C
Liquid water clean
Max. Pressure 1 MPa,Max
Flow rating Q & Frequency Hz Hz=6*Q-1 Frequency=6* flow rating-1
Product Dimension
The sensors end threads are NPTF1/2", and can connected with 3/8" or 1/2" fast port and matched flexible pipe. It can also be customized according to client requirements.