Hall-effect rotary angle displace sensor
Featured Product from Shanghai Yuanben Magnetoelectric Tech. Co., Ltd.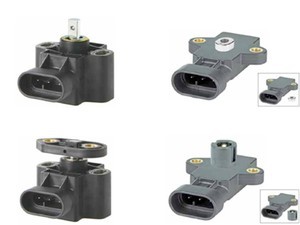 RADS Series Hall-effect rotary angle displace sensors provide non-contact sensing in harsh transportation and industrial applications at a competitive cost. Multiple operating ranges from 60° to 360° are tolerant to over-travel and allow for usage in most common applications. Low voltage and high voltage versions cover an input voltage range of 4.5 Vdc to 30 Vdc.
Features
True, non-contact operation
unlimited rotation (RAS Series)
Solid-state Hall-effect technology
Rugged IP69K-sealed package with integral connector
Automotive-grade EMI/EMC testing, integrated reverse polarity, and short circuit protection
Industry-standard AMP termination, 32 mm mounting pitch, North American or European pin-out styles, and compact package
Multi operating ranges up to 360°
Applications
Transportation
Position and movement detection (pedals, throttles, gear shift, levers, steering, linkages, and hitches in trucks, buses, off-road vehicles, cranes, and industrial/ construction/agricultural vehicles and equipment)
Suspension/kneeling position (buses, trucks)
Tilt/trim position (boat engines, tilling equipment)
Industrial
Valve control
HVAC damper control
Irrigation equipment pivot control
Electrical Parameters
| | |
| --- | --- |
| Characteristic | RADS series (Low Voltage) |
| Supply voltage | 5 ±0.5 Vdc |
| Supply current: Normal | 20 mA max. |
| during output to ground short | 25 mA max. |
| Output: standard | 0.5 Vdc to 4.5 Vdc Ratio-metric |
| inverted | 4.5 Vdc to 0.5 Vdc Ratio-metric |
| Output signal delay | 4 ms typ. |
| Reverse polarity protection | -10 Vdc |
| Overvoltage protection | 10 Vdc |
| Output to ground short circuit | continuous |
| Resolution | 12 bit |
| Output load resistance (pull down to ground) | 10 kOhm typ. |
| EMI: radiated immunity | 100 V/m per ISO11452-2 from 200 MHz to 1000 MHz |
| EMI: conducted immunity | 100 mA BCI per ISO11452-4? from 1 MHz to 200 MHz |
Mechanical Parameters
| | |
| --- | --- |
| Characteristic | RADS Series (Low Voltage) |
| Expected Life | infinite rotation |
| Air gap: bare magnet actuator | 3,00 mm ±0.5 mm [0.12 in ±0.02 in] |
| Air gap: housed magnet actuator | 2,00 mm ±0.5 mm [0.08 in ±0.02 in] |
| misalignment | 2.002,00 mm [0.08 in] max. |
| Material | |
| Magnet | NdFeB |
| Sensor Housing | PBT plastic |
| Housed Magnet over-mold sensor | PPS plastic |
| Housed Magnet Bushing Sensor bushing | brass |
| Mating Connector | AMP Super-seal 282087-1 |
| Mechanical End Stop | no |
| Mounting screw sizes: sensor to mounting surface | non-magnetic, stainless steel M4 X 0.7 screws and 8 mm [0.31 in] OD washers |
| Housed magnet actuator to actuator mounting shaft | non-magnetic, stainless steel M3 X 0.5 plain cup point set screws |
| Approvals | CE |