High Frequency RFID Tag
Featured Product from Shanghai Yuanben Magnetoelectric Tech. Co., Ltd.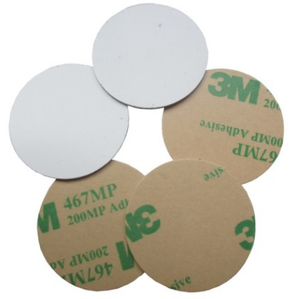 YUANBEN's RFT-323 high-frequency RFID landmark label (RFID tag) uses a self-adhesive 3M tape as the installation material and PBT plastic as the packaging material. It features a solid round sheet structure, excellent compressive strength and easy installation.
Features
Sole ID tag ensures non-duplication and safety.
The tag can be written or read repeatedly over 100K times.
Anti-collision function: even though multiple tags are used at the same time, this RFID tag can be detected accurately to ensure the correct data exchange.
PBT material package, 3M adhesive tape installation and single mounting.
Ideal for AGV address management and controlling.
Technical Parameters
| | |
| --- | --- |
| Working Frequency | 13.56MHz |
| Reading Distance | 70-90mm |
| Communication Protocol | ISO15693 |
| Tag Type | I-CODE |
| Tag Memory | 1 Kbit (be capable of reading or writing) |
| Baud Rate | 53Kbps |
| Data Protection Mode | Write lock |
| Data Storage | Over 10 years |
| Installation | 3M adhesive tape |
| Color | white |
| Dimension | 30mm•1mm or required |
| Weight | 1g |
| Housing Material | ABS, PST, PPS or required |
| Working Temperature | -20°C ~+70°C |
| Storage Temperature | -20°C ~+85°C |
| Working Humidity | < 95% RH |