High Frequency RFID reader and writer For AGV
Featured Product from Shanghai Yuanben Magnetoelectric Tech. Co., Ltd.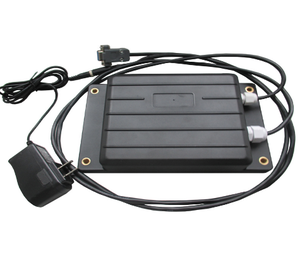 Description
RF-2210-117 is a 13.56MHz high-frequency RFID reader, is a non-contact reader, which automatically read through passive radio frequency tags passive tags, and access to label address and other related data, in a variety of harsh environments jobs. RFID reader in the high-speed movement, can quickly read and write tags, quick and easy operation, with the use of simple, stable and reliable performance, mainly used in intelligent parking, AGV unmanned truck site tags and management system electronic tag reading and writing.
Products feature and application
Feature
Comply with ISO/IEC15693 Protocol
Through RS232, RS485 serial interface and PC / PLC / single-chip data communications
40ms each time with low power consumption, high sensitivity, reading speed of 40ms once
It can read, write, lock and so on to the electronic label many data blocks
Wide read and write area, AGV car offset ± 15cm, can identify the label to prevent leakage reading.
Using IP65 industrial protection class, to meet the demanding industrial environment application requirements
Applications
Mainly used in the production line management, AGV trucks and forklift positioning and other harsh industrial environment
Product Parameters
working frequency 13.56MHz
Protocol ISO/IEC 15693
Read distance 8cm(RF-3234-118 Test)
Read rate 40ms
Radio frequency power 250mW
Communication Interface RS232 RS485 Optional
Way of working Active, response
Signal indication buzzer
Operating Voltage DC9-12V
Working current 350mA
Installation requirements 4-Φ6mm mounting holes
Wiring protection Reserved 90cm wiring
Color Black
Dimension 215*134*43mm
Weight 600g
Material ABS
Accessories RS232 serial cable, power adapter
Operating temperature -20°C ~ +70°C
Storage temperature -30°C ~ +85°C
Working humidity 95%