LCT-840 Capacitive Level transmitter
Featured Product from Shanghai Yuanben Magnetoelectric Tech. Co., Ltd.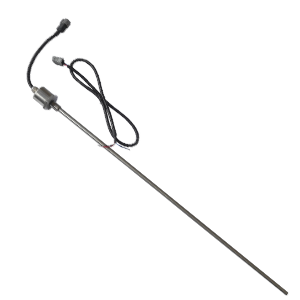 Overview
The principle of the LCT-840 capacitive liquid level transmitter is to use the capacitance formed by filling the liquid medium between the positive and negative probes to change the capacitance (the amount of change in the liquid level) into a standard electrical signal output. The core components of the product are highly integrated, dedicated capacitance measuring chips with precise temperature compensation and linear correction for high precision, high stability, safety, reliability and continuous measurement.
Features:
1. The fuel consumption value is obtained directly by measuring the oil volume of the oil drum, and does not have any effect or influence on the oil pipe.
2. It can be fixed by thread or flange and is easy to operate.
3. The sensor can be customized according to different oil drum sizes of the customer; its adds temperature compensation function to automatically correct the error caused by the volume change of the oil drum caused by temperature change.
4. The capacitive sensor is directly installed in the oil drain hole of the oil drum, and the NPT taper pipe thread is used to prevent the oil leakage problem.
5. Without any mechanical moving parts, mature and stable circuit structure and high quality components will make the sensor continuous use.
Technical performance parameters:
1. Power 5VDC, 12VDC, 15 ~28VDC, 5VDC powered only RS485 digital output
2. Displacement range 100~1500mm
3. Nonlinear error ±0.1%F.S
4. Repeat error <±0.02%F.S
5. Temperature Coefficient 0.025%/°C
6. Operating temperature -40°C ~ +85°C
7. storage temperature -40°C ~+100°C
8. Fixed work stress 0.63MPa
9. Rod material Aluminum alloy/stainless steel
10. Output signal 0~5VDC or 0~10VDC Three-wire system
4~20mA Three-wire system or RS-485 output
11. load capacity Voltage signal output minimum load >5KΩ,
current signal maximum output load resistance 600Ω
12. Installation interface Flange or threaded connection
13. Way out Straight out cable
14. Shell IP grade IP65
Note:
B: Sensor effective range mm
C:Sensor rod length=Effective range+26(mm)
L:Total length of sensor=Effective range+89(mm)
The testing Length of senson can be selectable,As,B,C,L,custom.ged
Wiring method and port description
| | | | |
| --- | --- | --- | --- |
| Wire color | Label | definition | Note |
| red | 24Vdc | Power supply | |
| black | GND | Negative power supply | |
| blue | A | RS485 T/R+ | |
| white | B | RS485 T/R | |
| blue | Vout | Analog voltage output | 0~10V 0~5V |
| blue | Iout | Analog current output | 4~20mA |
RS-485 Output format data format and baud rate
M:Modbus Output (factory default baud rate 19200)
RTU format 0,2400 1,4800 2,9600 3,19200 4,38400 5,76800 6,115200
ASCII A,2400 B,4800 C,9600 D,19200 E,38400 F,76800 G,115200