Magnetic Encoder MEI-30
Featured Product from Shanghai Yuanben Magnetoelectric Tech. Co., Ltd.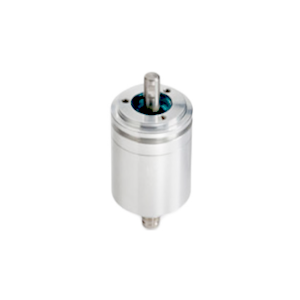 YUANBEN's magnetic encoder, just one type of non-contact absolute coders, uses a magneto-resistive effect to sense a change in magnetic field, then amplify the change using an amplifying circuit. A single chip then processes and outputs an analog or digital signal in an absolute position. The magnetic encoder is able to sense, measure and give information on its position within a 360° range without the need for a reference point. It can use an SSI synchronous serial communication interface for signal output or utilize CANopen or Profibus-DP for remote transmission.
Due to the magnetoelectric design, YUANBEN's magnetic encoder features a shock, corrosion and stain resistance, stable performance and simple structure. Multiple mounting methods are available including clamping flange, synchronous flange, synchro-clamping flange, and through-hole. The outer diameter is optional: Φ28, Φ38, Φ48, Φ60.
Features
The compact structure and magnetoelectric design allow the magnetic encoder to withstand the toughest industrial environments.
High precision, fully digital, no signal interference or zero drift.
3.Baud rate and address code can be set using the dial switch or system software.
Resolution (P/R):4096.
Wide operating voltage range and low power consumption current.
Clamping or synchronous flange conforms to international structure standard.
CANopen communication protocol bus output with up to 110 stations
Technical Parameters
Output Code/Angle
Reference output waveform
Resolution (P/R)
1024-4096
PNP Open Collector Output
Output voltage: Min (power voltage-1.5) VDC, Load current: Max:80mA
N PN Open Collector Output
Load current Max :80mA Residual voltage Max:1VDC
Differential Output
Load current Max: ± 80mA
Residual voltage Max:0.4Vdc
Voltage Output
Voltage≥85%Vin, low level≤0.4 Vin, load current Max≤20mA
Push-Pull Output
Voltage≥85%Vin, low level≤0.4Vin, load current Max≤60mA
Response Time ?rise/drop?
≤1us
Response Frequency
200 kHz
Power Voltage
5Vdc±5%(P-P:Max.5%),10-30VDC±5%(P-P:Max.5%)
Current
Max. 35mA (idle)
Insulation Resistance
Min 100MΩ ( based on 500VDC)
Insulation Strength
750VDC 50/60Hz, maintain 60s (between terminal and housing)
Connect Mode
Lead out from back and side
Starting Torque
Max: 5x10-3 N.m
Inertia Moment
9.8X10-8 kg.m2
Axle Load
Radial 20N, axial 10N
Axle Position Deviation
Radial: 50.1 mm • axial: 50.2mm
Maximum Permissible Speed
3000rpm
Ambient Temperature
-10°C ~ +70°C
Storage Temperature
-25°C ~ +85°C
Ambient Humidity
35%~85%
Degree of Protection
IP65
Cable
Shielded wire, 0.5M length
Applications
Robot industry
Automobile industry
Precision machinery
Metallurgy industry
Industrial automation
Servo motor
Heavy duty crane or transport machinery in ports and construction sites
Speed measurement and power transmission of construction machinery
Automatic production lines and conveyers