Safety switches used in Safety machine guarding
Featured Product from Shanghai Yuanben Magnetoelectric Tech. Co., Ltd.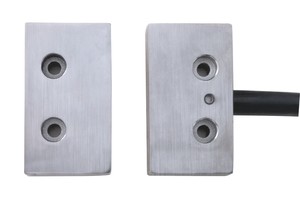 MPSS non-contact magnetic safety switch, widely used in industrial safety interlocking system, adopts PPS engineering plastic housing protection class reaches IP67 , stable and reliable performance. At the same time can be customized for customization special requirements of non-contact code type magnetic safety switch, according to customer requirements to determine the electrical wiring and wire length, stainless steel shell material, etc.
Features
Good impact and vibration resistance, suitable for harsh application environments.

The engineered plastic PPS housing is strong and durable.

No mechanical wear, long service life.

Protection level reaches IP67.

The compact and simple design of the square allows for quick installation, and the plug- with cable for integrated for flexible installation.

Working distance: safe close range Sao: up to 7mm ; Safe cutoff range Sar : up to 20mm
Applications
guards where additional security required

Food and Beverage packing/filling systems

Dairy Pharmaceutical Paper Industry

Can Forming and Filling, ( Aluminum, Steel, Plastic)

Semi-conductor Manufacture/Assembly.

Important position monitoring
Protective device monitoring, such as injection molding machine, machining center.
Key laboratory, test measurement
industries or places of door fixer,
Customization
Optional Plastic and stainless steel material available.

Optional safety switches return circuits 2 and switch types N.O and N.O available

Optional electrical wiring and wire length or wire M8 (M12) connector available.

Detecting safe distance 8mm, 7mm, 5mm, 12mm can be selected.

Protection level IP67, IP68 and IP 69.

We provide RFSS non-contact safety switches with RFID technology.