Hand Held Hygrometer with Advanced Data Logging
Featured Product from Shaw Moisture Meters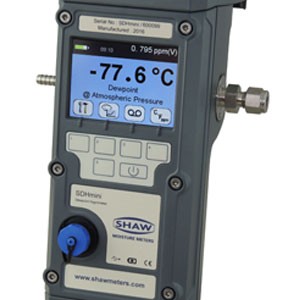 The SHAW SDHmini-L portable dewpoint hygrometer with advanced data logging includes state of the art features and enhancements with support of USB and Bluetooth interfaces for logging, PC connection and printing. This hand held hygrometer includes: a desiccant chamber, advanced electronics and intuitive menu structure. The full colour graphics display screen incorporates a secondary display in the top right of the screen for viewing readings in alternative units of measurement.
Compatible with the SDH-PSS (SDHmini Portable Sample System), manufactured in the UK by Shaw Moisture Meters for the range of SDHmini hand held dewpoint meters. The SDH-PSS is designed for ideal sampling conditions of dew point measurement, ensuring the sample pressure and flow are suitable for quick and accurate dew point measurements in gases and dry compressed air. With an effortless docking arrangement, easy to install and simple setup process, this sample system is fully configurable and includes a flow indicator, optional filter unit and optional pressure regulator.
Suitable for industrial applications and the toughest of environments.