Optical Materials
Featured Product from Sheldahl Flexible Technologies - a Flex company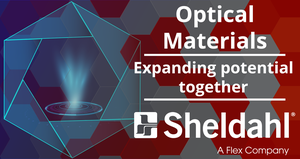 Sheldahl's transparent conductive coated products leverage optical, electrical, and mechanical material properties to expand design space and reach the widest range of product capability.
When you design with our Indium Tin Oxide (ITO) films, value-added capabilities are available to you, such as: patterning, printing of conductive inks and coatings, lamination with optically clear PSA, and protection films, and functional testing. Sheldahl's transparent conductive coating products and processes allow you to leverage all of these technologies, thus reaching the industry's widest range of product capability.
Applications Include:
Transparent Conductive Switches
Solar Energy
EMI Shielding
Touch sensors
EL Illumination
Flexible Displays
... and more.
Our Transparent Conductive Optical Coating is a low resistance, vacuum deposited layer of Indium Tin Oxide (ITO) on optically clear film. It combines Sheldahl's world-class expertise in vacuum deposition and web handling. Products are available at standard resistance levels of 60, 100, 200, 270, and 300 ohms per square. The standard base films are 50, 125, and 175 μm, fully stabilized; optically clear polyester (PET).
Other Options Include:
Refractive Index Matching: Hiding of ITO Patterns
Lamination: PE & PET Protection Films & Optically Clear PSA
Additional Coating: Gloss Hard Coat
Our high technology roll-to-roll patterning process provides customized solutions for projective capacitive touch sensors, flexible displays, and flexible solar cell applications. Complementing the Indium Tin Oxide (ITO) patterning, we can also screen print additional circuitry features such as silver ink traces, carbon connection pads, and insulating overcoats. Standard roll widths for patterned ITO are 330mm (13") and 435mm (17.125").
Our ITO films can be patterned with ITO features sizes as small as 50 μm. Spaces between ITO features can be as small as 35 μm. Multek can also pattern customer-supplied ITO, Indium Zinc Oxide (IZO) and Aluminum Zinc Oxide (AZO) coated films.
Patterned ITO films can be screen-printed with one or more layers of conductive or dielectric inks. Silver ink can be printed down to 100 μm pitch.
From prototyping to production quantities, we can support your touch sensor needs. Prototype quantities of touch sensor layers can be laminated together and laminated to glass or plastic lenses at our facility in Northfield, MN. Production assembly volumes of touch sensors can be supported at our other global locations.