Thermal Control Materials
Featured Product from Sheldahl Flexible Technologies - a Flex company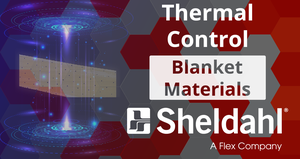 One of our core strengths is vacuum deposition. Sheldahl's materials are used for numerous applications including:
Passive thermal control for satellites & launch vehicles
Thermal insulation for F1 racing cars & fire suits
Robust materials for audio and medical applications
Solutions for renewable energy
Sheldahl's materials are available with a wide variety of vacuum deposited metals:
Titanium
Copper
Chrome
NiCr (NiChrome)
Monel
Inconel
Nickel
Aluminum
Gold
Silver
Germanium
ITO (Indium Tin Oxide)
SIOx (Silicon Oxide)
AgCi (Silver Chloride)
Contact us for custom coating options.
Sheldahl is capable of depositing on a variety of different film options:
PET
PI
FEP
PEEK
PVF
PEN
Foils
Fabrics
Both high volume roll-to-roll and custom batch processing are available.
Sheldahl's gold-coated materials are used when performance counts and quality can not be compromised. The IR reflectance properties of gold are unsurpassed. It is the best metal for your critical thermal applications.
When your design applications require the highest quality and longest product life; when second chances are not an option; our gold coated and gold patterned materials are your solution.
Product Applications include:
Medical Devices
F1 Racing Car Shielding
Speaker & Audio Applications
Critical Heat Reflection Applications
The Sheldahl material's REDBOOK contains the industry's most comprehensive compilation of the latest technical information on thermal control materials.
Technical information in the REDBOOK includes:
Multi-layer Insulation (MLI)
Tapes
SSM Radiator Materials
ESD Materials
Laminates