High-performance AC motor drive
Featured Product from Shenzhen INVT Electric Co., Ltd.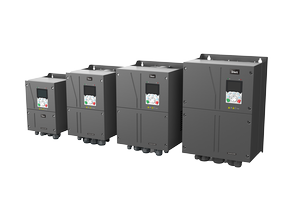 Goodrive350 is a brand new high-performance inverter. It is highly extensible and flexiblewith PG card, PLC card, communication card and IO card, meeting the demands ofvarious industries. It's oriented for medium and high-end OEM equipmentmarkets, mainly covering the applications of printing and packaging, winding equipment,paper machinery, shearing equipment, textile machinery, HVAC, etc.
The Features:
Supports SVC and VC(Closed loop) controlfor both asynchronous and synchronous motors.
Enables high precision of speed,position, torque control and fast speed response.
Supports optional PLC cards with CODESYSprogramming function.
Supports optional Field buscommunication cards, including PROFIBUS-DP, CANopen, and EtherCAT, etc.
Supports optional PG cards for encoderslike incremental, absolute value, Sin-Cos, and rotary
transformer.
Accepts plug-in of three expansion cardssimultaneously (only two cards below 5.5kW).
Integrates safety function-STO(SafeTorque OFF, SIL2)
Unique I/F control and online transitionwith other control modes, very suitable for the situation where the
asynchronous motor has low speed with hightorque and the speed accuracy is not high.
Provides standard USB2.0(A type) portsto download firmware, and intuitive LCD keyboard with maximum
16 lines text display as well as graphicaldisplay, Wizard Mode to set parameters while powered on.
Supports optional Bluetooth card and WiFi card to realize wirelesscommunication.