Medium Voltage - AC motor drive Goodrive5000
Featured Product from Shenzhen INVT Electric Co., Ltd.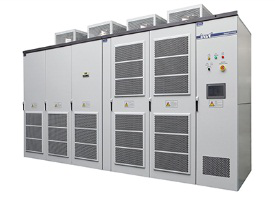 Goodrive5000 VFD use High performance CPU and IGBT makes it less harmonic and accurate control, dusty, high altitude, cold conditions has been tested. With touch screen operation, UPS inside, more flexible interface, VFD can easily realize industry smart control with PLC and DCS system.
Projects: Coal power plant, Metallurgy, Cement mill, Sugar mill, Gas & Petrol field, Mining site, Chemical factory, paper or steel mill, etc. Feature1: Three Control modes
1, High performance V/F control. (Fans, Pumps, Air compressors, etc).
2, Open loop vector control. (Belt conveyer, mill drive, fibrizer crusher, etc.)
3, Close loop vector. (Applicable to internal mixer, hoister machine, etc.)
Feature 2:Multiple types of motor drives
Support Asynchronous motors
Synchronous motors (Include PM synchronous motors)
Feature 3?Four-Quadrant Drive
Power units use IGBT for rectification, dual energy flow, energy saving and environmental protection.
With full rated power energy regenerative ability.
Feature 4?LVRT Low Voltage ride through
Wide voltage anti-interference capability. The system has AVR function for stable system output when the bus voltage fluctuates frequently.
No stop when instantaneous power off, during running, the system will not stop after power off in the set time. Can be set when power off 0-5s.
Feature 5?Full Brand Speed Tracking
Accurate tracking in the current rotating speed and direction of the motor without installing speed sensor
Automatic starting when power off in the set time
Feature 6?Multiple unit bypass modes
The same level bypass, when one unit is invalid, bypass it and continue to run
Neutral point drifting bypass, CPU smart calculate to ensure output stable and balance
Feature 7?Excellent Low Frequency Control
Advanced dead area compensation technology, good low frequency waveforms; Optimized algorithm of low frequency oscillation suppression, no motor resonance.