TFT LCD display for Bank Sorter,9 inch
Featured Product from Shenzhen Topway Technology Co., Ltd.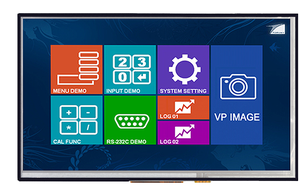 LMT090DICFWD-NNA
Resolution: 800x480

Interface: RGB

Voltage: 3.3V

Temperature: -20°C ~ 70°C

Outline: 211.1mm x 126.5mm x 7.4mm

Size: 9"

Active Area: 198.0mm x 111.69mm
BPS is a device that performs counting, sorting, authentication all at one time. LCD's speed and precision are very important.

Inside BPS, TFT LCD is very closed to motor. Electromagnetic Interference is a main concern. Customer's engineers mentioned that they had major "ghosting" and noise problem on LCD screen, when they tested other LCD samples. Another factor that helps Topway LCD module wins in competition, is its real-life refresh rate and response time. BPS's throughput is the machine's main selling point, so having a "fast" LCD screen is a must.