3.5 inch Smart TFT LCD display for coffee machine
Featured Product from Shenzhen Topway Technology Co., Ltd.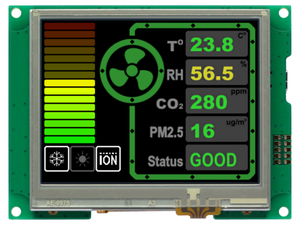 Resolution:320x240
Interface:RS232
Voltage:5V
Temperature:-20°C ~ 70°C
Outline:93mm x 70.1mm x 13.8mm
Size:3.5"
Protocol:Topway
Active Area:70mm x 52.5mm
Touch Screen:RTP
TOPWAY HMT035ATA-1C is a Smart TFT Module with 32bit MCU on board. Its graphics engine provides numbers of outstanding features. It supports TOPWAY TML 3.0 for preload and pre-design display interface that simplify the host operation and development time.
Suitable for industry control, instrumentation, medical electronics, power electric equipment applications.