7" TFT LCD Display with CTP,RS232/RJ45,Full-view
Featured Product from Shenzhen Topway Technology Co., Ltd.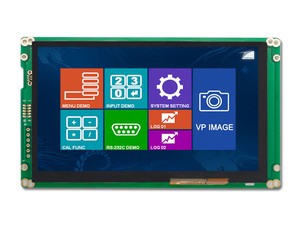 TFT LCD Display-HMT070ETD-1D
Touch Screen: CTP
Wide Viewing Angle
Resolution: 1024x600
Interface: RJ45/RS232
Voltage: 11V~26V
Temperature: -20°C ~ 70°C
Outline: 185.9mm x 109.5mm x 25.4mm
Active Area: 154.21mm x 85.92mm
Protocol: Topway
TOPWAY HMT070ETD-1D is a Smart TFT Module with 32bit MCU on board.
Capacitive touch 7 inch Smart TFT LCD with built-in LAN port, supports remote UI design update and communicating / controlling Smart LCD display via TCP/IP protocol. It is perfect for IoT application.
TOPWAY Smart TFT LCD Module, called Smart LCD for short. TOPWAY's Smart LCDs embed a display engine and a versatile range of TFT display sizes and Touch-panels to support a wide range of industrial and instrumentation applications.
Its graphics engine provides numbers of outstanding features. It supports Display UI files preload and pre-design display interface that simplify the host operation and development time. Suitable for industry control,instrumentation, medical electronics, power electric equipmentapplications.
RTC without battery, Support 90 degrees rotation, Lua script engine, Buzzer.