Graphic Display LCD Module 128x32
Featured Product from Shenzhen Topway Technology Co., Ltd.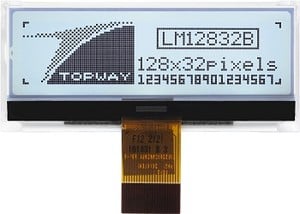 Resolution: 128 x 32
Interface: Serial
Voltage: 3.3V
Temperature: -20°C~70°C
Outline: 58.0mm x 22.5mm x 7.0mm
Display Effects: black-on-white
V. A.: 53.0mm x 15.5mm
Model: LM12832BCW
TOPWAY monochrome LCD modules prioritizing simplicity and functionality, provide striking graphics with ultra-low power consumption. Our monochrome graphic LCD modules offer a wide range of sizes and display formats in transmissive, reflective or transflective types, satisfying virtually any application.