Smart LCD display for ev-charger,Industrial LCD
Featured Product from Shenzhen Topway Technology Co., Ltd.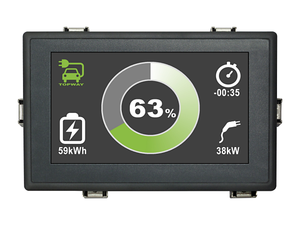 HKT070DTA-1C
Resolution: 800x480

Interface: RS232

Voltage: 11V~26V

Temperature: -20°C ~ 70°C

Outline: 200mm x 125mm x 30mm

Size: 7"

Protocol: Topway

Active Area: 154mm x 85.9mm

Touch Screen: RTP

Casing: PC/ABS
7" 800x480 Smart TFT LCD Module, with UV protection, weather proof case, makes it one of the choices for out-door application.
TOPWAY Smart TFT LCD module embeds LCD driver, controller and MCU, is a color LCD module with brain. Smart TFT LCD sets engineer free from tedious display programming. So that product engineer can focus on product development. Using Smart TFT LCD module, our customers greatly reduce product's time-to-market. And the product is more reliable with high EMI tolerance.