TFT LCD Display,MCU/SPI interface,3.5 inch
Featured Product from Shenzhen Topway Technology Co., Ltd.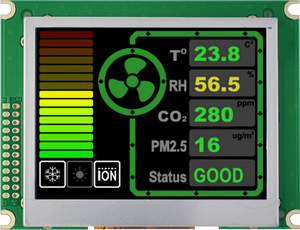 LMT035KDH03-NHN
Resolution: 320x240
Interface: MCU SPI
Voltage: 3.3V
Temperature: -20°C ~ 70°C
Outline: 92.7mm x 72.0mm x9.75mm
Size: 3.5"
Active Area: 70.08mm x 52.56mm
TFT LCD: Stable and durable, Topway TFT LCD delivers responsive long-lasting service
After more than 20 years' evolution, TOPWAY TFT LCD module has grown into a line of products that are highly reliable, easy-to-use and have rich interface selections, including MCU / TTL / LVDS / VGA / HDMI / MIPI / EDP and RS232, etc. To support customers' unique application. We build TFT LCD module with many characters: sunlight readable, wide viewing angle & working temperature, touch supported, water proof and UV protection, etc.