TFT LCD Display module for EV charging market
Featured Product from Shenzhen Topway Technology Co., Ltd.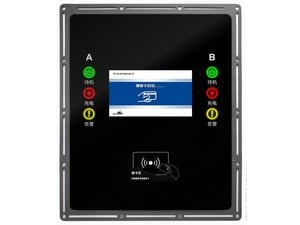 Model:LMT070DICFWD-AKE-1
Resolution: 800x480
Interface: LVDS
Voltage: 5V
Temperature: -20°C ~ 70°C
Outline: 340.0mm x 400.0mm x 36.0mm
Size: 7"
Active Area: 154.08mm x 85.92mm
Touch Screen: CTP
The new EV charger display module has gone through very rigid tests. And it will be used in our customers' new generation of electric car charging station. These are some of the criteria LMT070DICFWD-AKE-1 achieved.
Qualified for UL-f1, suitable for outdoor use with respect to exposure to ultraviolet light, water exposure and immersion in accordance with UL 746C
Front panel achieves IP65 and IK08 rating
LCD screen brightness >= 900 cd per square meter; LED backlight lifespan >=50,000 hours
PWM, module includes a photosensitive circuit, which can adjust brightness automatically
Panel mounted, optical bonded capacitive touch screen ensures crystal clear display, yet won't be triggered by rain or water droplet
Strict EMC test according to GB/T 17626 standard, electrostaic discharge immunity test; electrical fast transient/burst immunity test; radiated, radio-frequency, electromagnetic field immunity test and GB 4824 radio-frequency disturbance test
You can find Topway's completed line of TFT LCD Module for EV charger here, or leave us a message in the site.