Acrylic Foam Tape for Solar photovoltaic industry
Featured Product from Shenzhen You-San Technology Co., Ltd.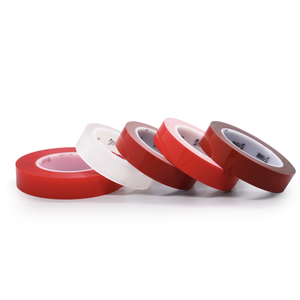 Introduction:
Acrylic foam tape is made of a single layer of acrylic adhesive, covered with a release film or release paper. It has strong adhesion, good weather resistance, excellent adhesion to high surface energy and low surface materials, good balance between Initial Tack and shear strength, chemical solvent resistance, moisture resistance, and UV resistance.
Application:
1. Automobile industry: assembly and decoration of various automobiles, commercial vehicles, commercial vehicles, construction machinery, etc.
2. Solar photovoltaic industry: solar photovoltaic cell sealing and fixing; module fixing, assembly fixing and sealing.
3. Elevator industry: bonding of reinforcing ribs, bonding of fixed parts such as mirrors and decorative panels.
4. Electronics industry: bonding, fixing, sealing and waterproofing of various electronic digital products, home appliance processing and assembly.
5. Construction industry: glass curtain wall, door and window assembly, elevator, etc. provide super strong adhesion and dustproof sealing, and provide heat insulation, connection, binding, waterproof, repair, sealing, etc. for building construction.
6. Advertising industry: Various advertisements, street signs, sign nameplates, nameplates, label bonding, etc. are fixed.