For use in Industrial & Military applications
Product Announcement from Sherborne Sensors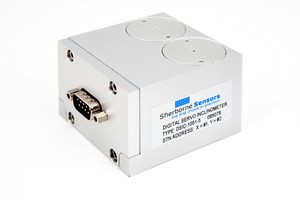 DSIC Single and Dual Axis Rugged Digital Servo Inclinometer
The DSIC Series is a range of single and dual axis gravity referenced digital output servo inclinometers with total error band of less than 0.08 degrees over -20°C to +70°C. They are suitable for use in a wide variety of industrial and military applications where high precision angular measurements are required in rugged and robust applications where high levels of vibration and mechanical shock up to 1250g may be encountered. Models are available in a variety of angular ranges from +/-5° to +/-60° with RS485 ASCII outputs and electrical terminations are via a connector.
Sherborne Sensors....the first choice in precision
As we approach the 40th year of production of Schaevitz® inertial sensor products in the UK, and the 34th year of production of Maywood force products, Sherborne Sensors continues the legacy of cost effectively manufacturing to the highest quality and performance standards in the industry.
Products
Sherborne Sensors high precision inclinometers are designed to measure horizontal and vertical angular inclination with virtually infinite resolution. Our inclinometers provide reliable, highly accurate, tilt and inclination measurements and are used in demanding military and industrial applications where high precision angular measurements are essential.
Sherborne Sensors manufacture a wide range of high precision inertial accelerometers to measure linear acceleration and deceleration with the highest levels of accuracy and reliability. Our accelerometers are used in demanding aerospace, aviation, military and industrial applications around the world.
The Sherborne Sensors range of high performance compression force transducers, force sensors and load cells provide unrivalled performance and reliability for a diverse range of load applications.
Sherborne Sensors actively supports a substantial infrastructure to design, develop, test and deliver customised sensor products and systems across all of the market areas we serve. This includes our own in house specialists in mechanical prototyping, electrical circuit design, accessory design and integration, and sensor packaging.
We welcome opportunities to design and evaluate solutions that modify our existing products, or require a completely new sensor, built around our proven inertial sensor elements.
We are very adept at not only designing robust, accurate and repeatable products, but also doing so in a cost effective and timely manner. Recognizing that design features of a sensor may at times enhance certain specification capabilities at the expense of others, we invest significant effort in consulting with our customers to completely understand their requirements, and convey our design recommendations in a comprehensive offering.
Products manufactured by Sherborne Sensors are highly precise, accurate and robust, and are found in very demanding applications. As part of any preventative maintenance program, our sensors should be recalibrated on a regular basis. Our manufacturing facility is fully capable of confirming performance of field units to original manufacturer's specifications, providing a certificate of performance that is traceable recognised international standards. In addition, Sherborne Sensors welcomes the opportunity to calibrate competitor's products as well.
In addition to recalibration services, Sherborne Sensors offers our customers the option to repair units that are damaged in the field. As part of this process, prior to initiation of any work, Sherborne Sensors provides our customers with a detailed analysis of the unit's performance, the root cause for the unit's inability to meet factory performance specifications, and a firm fixed cost for the unit's repair. We will also advise our customers if a unit cannot be economically repaired, and instead requires replacement.
---