TOC-4200 Online Total Organic Carbon Analyzer
Product Announcement from Shimadzu Scientific Instruments, Inc.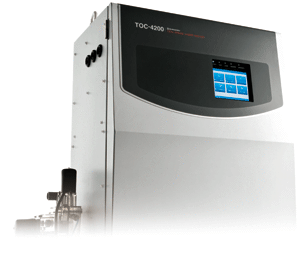 The TOC-4200 utilizes Shimadzu's proven, industry-standard 680 °C combustion catalytic oxidation method to support analyses from 5 mgC/L to 20,000 mgC/L full-scale. With a new high-sensitivity kit, the TOC-4200 can measure samples with TOC concentrations from 0 to 1mgC/L, such as underground water, public drinking water, or recovered deionized water from semiconductor manufacturing. A high-salt sample combustion tube kit increases the period between necessary maintenance by 10 times, when measuring sea water or other high salt concentration samples, while a variety of pretreatment units are available to best match a sample's characteristics.
The TOC-4200 now offers ECO mode to reduce waste by only using carrier gas and operating the sampling pump when it is needed. A carrier gas purification function is installed as standard. In addition, a multi-functional sample injector allows for a multipoint calibration curve from a single high standard - a function that now only takes minutes, would previously take a person an hour.
In addition to standard analog and contact outputs, the TOC-4200 web-based monitoring function allows users to monitor data and status from any network-connected computer. It is also compatible with digital bus standard (Modbus) two-way digital communication to easily control multiple devices over one line.
Users do not have to worry about measurement interruption with the TOC-4200 notification system, which sends alerts when reagent or consumable replacement periods approach. Upgraded internal storage holds 20,000 measured values, 100 calibration values, and a history of 100 alarms. All data is easily output to USB memory.
Additional usability upgrades include a color LCD touch screen (easily operated with gloves), sleep settings, and automatic calibration schedules.
---