Formaldehyde Multimode Monitor
Product Announcement from Shinyei Corporation of America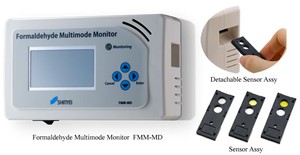 Feature:
? Developed colorimetric sensor element, small size?43×17×4mm?, easy to use, reusable, highly accurate and applicable for Passive diffusion sampling.

? Portable base unit device equipped with photoelectric photometry reading function of absorbance change induced in the sensor.

? Sensor assy itself can work as stand-alone passive sampler, and it's reusable.

? Base unit with the sensor inserted can work as on-site monitor for short-term?30min/1h?sampled measurement and continous monitoring for time series variation.
---