Reduce Machine Downtime!
Product Announcement from ShopFloorConnect.com – a Wintriss Controls Group Company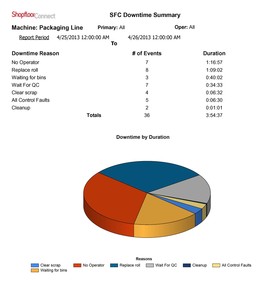 Automated Collection of Real-Time Production Data
Every manufacturer wants to reduce machine downtime.
With limited resources available to devote to downtime reduction, perhaps the most important ongoing process in any downtime reduction program is to accurately identify where your resources can do the most good. The first step in any downtime reduction program should be measurement, because you can't fix what you don't measure. The most efficient and reliable method of downtime measurement is through automatic shop floor data collection. more...
ShopFloorConnect is the newest offering from the Wintriss Controls Group of Acton, MA. Wintriss has been manufacturing and installing electronic controllers on industrial machinery for over 50 years.
Wintriss developed its first industrial data collection and production reporting software product in 1985, and we've been perfecting it ever since.
Wintriss has a unique skill set: Not only do we provide a reliable, robust, and scalable data collection product, but we've also developed an on-machine solution that is fast and simple to install, and operator friendly. More importantly, Wintriss has the expertise to seamlessly adapt it to your machinery.
These products are known for their proven performance and rugged dependability in the toughest factory environments. Wintriss products are backed by attentive service, expert application assistance, and comprehensive spares inventories. A toll-free hotline to our Acton, MA location gives customers immediate access to technical support experts for product information and troubleshooting.
Wintriss provides a broad portfolio of safety and automation solutions for industry. The product range includes production reporting software, light curtains, clutch/brake controls, die protection systems, load analyzers, and in-die quality control systems.
Implementing ShopFloorConnect
How We Calculate OEE
Hardware Requirements
Sample Screens
White Paper
ShopFloorConnect Brochure
ShopFloorConnect Ad
Support
We support ShopFloorConnect from our main location in Acton, MA, as well as field offices in Chicago and Nashville. Our technicians are available from 8:00AM to 5:00PM Eastern time, and can provide phone and/or live VPN support.
---