What is ShopFloorConnect?
Product Announcement from ShopFloorConnect.com – a Wintriss Controls Group Company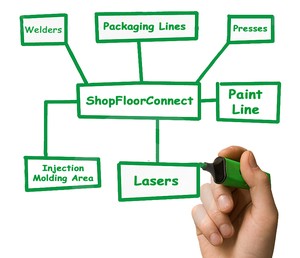 The software systems that you use to run your business - including Enterprise Resource Planning (ERP) and Manufacturing Execution Systems (MES) - rely on production data collected from the shop floor. In most cases, this data is collected manually and entered into the system by a human operator. The three common problems with manually collected data are untimeliness, inaccuracy, and bias. Considering that this raw data forms the basis for all subsequent production reports - and that important decisions are made based on those reports - any problems with the initial data collection can start a ripple effect that results in a negative impact on your business.
ShopFloorConnect factory reporting software and hardware automatically collect production data that is timely, accurate, and unbiased. Best of all, it does it automatically!
You Can't Improve What You Don't Measure
ShopFloorConnect is a state-of-the-art data collection package that is scalable and flexible. ShopFloorConnect comes factory-configured to talk to the ShopFloorConnect Machine Interface over your existing Ethernet.
ShopFloorConnect tracks uptime, downtime, the reasons for downtime, production rate, and piece part counts (when applicable). Running ShopFloorConnect is like having a team of manufacturing engineers doing a detailed efficiency study of the entire factory - all the time.
ShopFloorConnect Features
Displays real-time factory status in your web browser
Uses your existing Ethernet (including wireless)
Open architecture allows for communications with external software
Reports are customizable
Automatic report distribution
True thin-client. All settings are accessible through the web browser
No Special Client Software is Needed
Many currently available data collection packages require you to install special software on all computers that need to access production data. This is not the case with ShopFloorConnect. If your computer has a web browser and email client, you have all you need to take full advantage of ShopFloorConnect capabilities - even from remote locations (provided you have remote access to your network).
ShopFloorConnect Schedule Interface
The scheduling interface feature in ShopFloorConnect allows you to create a queue of jobs to run in each machine. You can either import a schedule from your existing ERP software, or use ShopFloorConnect's web browser interface to select the appropriate jobs and the quantity of parts required. You may optionally enter a job number and/or due date for each job.
Once a schedule is created, ShopFloorConnect automatically sends the "next job" information to the Machine Interface When it's time to run the next job, the machine operator simply selects "Load Next Job" and the information, including the good parts counter preset, is retrieved from ShopFloorConnect. The top item in the schedule is then automatically "consumed" and the queue moves up.
ShopFloorConnect predicts the completion time/date for each job in the queue with an industry-best algorithm that analyzes real-time as well as historical changeover and production data. ShopFloorConnect alerts you whenever job completion is due to occur later than the due date. The scheduling interface features a simple intuitive interface that allows you to edit job parameters and reposition jobs within the queue.
How Does ShopFloorConnect Differ From Other Data Collection Packages?
ShopFloorConnect is built from standard components that can be customized
It can communicate with virtually any production machine
It communicates with the machines via Ethernet (wired or wireless)
It uses the Microsoft SQL database - not Access
ShopFloorConnect will run on a virtual server (such as VMWare)
Shows real-time machine status in your web browser
No client installs
ShopFloorConnect supports multi-plant installations
Open architecture allows data exchange w/external systems
Automatically distributes/post reports
ShopFloorConnect is the newest offering from the Wintriss Controls Group of Acton, MA. Wintriss has been manufacturing and installing electronic controllers on industrial machinery for over 50 years.
Wintriss developed its first industrial data collection and production reporting software product in 1985, and we've been perfecting it ever since.
Wintriss has a unique skill set: Not only do we provide a reliable, robust, and scalable data collection product, but we've also developed an on-machine solution that is fast and simple to install, and operator friendly. More importantly, Wintriss has the expertise to seamlessly adapt it to your machinery.
These products are known for their proven performance and rugged dependability in the toughest factory environments. Wintriss products are backed by attentive service, expert application assistance, and comprehensive spares inventories. A toll-free hotline to our Acton, MA location gives customers immediate access to technical support experts for product information and troubleshooting.
Wintriss provides a broad portfolio of safety and automation solutions for industry. The product range includes production reporting software, light curtains, clutch/brake controls, die protection systems, load analyzers, and in-die quality control systems.
Implementing ShopFloorConnect

How We Calculate OEE

Hardware Requirements

Sample Screens

White Paper
ShopFloorConnect Brochure

ShopFloorConnect Ad

Support
We support ShopFloorConnect from our main location in Acton, MA, as well as field offices in Chicago and Nashville. Our technicians are available from 8:00AM to 5:00PM Eastern time, and can provide phone and/or live VPN support.
---