Ductwork Multipoint Temperature Test Kit
Featured Product from Shortridge Instruments, Inc.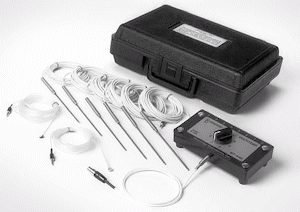 Ductwork Multipoint Temperature Test Kit
Eight point temperature test kit for air quality control maintenance. Used in hospitals, pharmaceutical, biological and medical research laboratories, semiconductor manufacturing clean rooms, and other applications in which the highest standards of the industry must be met.
Shortridge Instruments, Inc. developed the analog FlowHood in 1974, and invented the line of unique electronic digital readout AirData Multimeters in 1984, providing direct readout of air flow, velocity, pressure and temperature. The rugged, reliable field instrument automatically zeroes and automatically corrects for the density effects of barometric pressure and temperature. Readings in English or metric units. All calibrations certified NIST traceable. Calibration program maintained in compliance with ANSI/NCSL Z540-1, ISO 17025 and MIL-STD 45662A.