Maintaining Air Quality Control
Featured Product from Shortridge Instruments, Inc.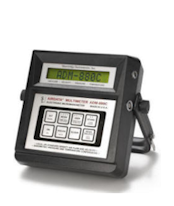 ADM-870C AIRDATA MULTIMETER
The ADM-870C AirData Multimeter is designed specifically forapplications with very demanding air distribution requirements.
The unique features of this meter are ideally suited for maintaining air quality control in facilities such as: hospitals; pharmaceutical, biological and medical research laboratories; semiconductor manufacturing clean rooms, and other applications in which the highest standards of the industry must be met. The RS232 communications port allows the user to download readings to a printer or computer. Readings can be downloaded either individually or as a sequence from memory.
Optional user-friendly software allows readings to be automatically inserted into an Excel™ or similar spreadsheet. Air velocity and flow readings may be displayed as either standard density mass flow equivalent, or as local density air velocity or volumetric flow, as compensated for variations in barometric pressure and temperature.
The auto-read function allows continuous automatic readings for monitoring ongoing changes in a system as it is being adjusted. Auto-read may also be used with the memory function to automatically store up to 200 readings. Each reading may be recalled, and the average and total of the readings may be displayed.
The averaging feature is useful for measurements made under fluctuating conditions. The differential pressure and temperature associated with a velocity reading are in short term memory and may be displayed immediately following each velocity measurement.
SERIAL OUTPUT TO PRINTER OR COMPUTER
LABORATORY ACCURACY
MASS FLOW EQUIVALENT OR TRUE AIR FLOW AND VELOCITY
MEMORY AND AVERAGING
ENGLISH AND METRIC UNITS
VELGRID AND AIRFOIL
SUPPLY AND EXHAUST
FUME HOODS
PRODUCT SPECIFICATIONS:
DIRECT DIGITAL READOUT IN ENGLISH AND METRIC UNITS
AIR VELOCITY: ±3% of reading ± 7 fpm 50 to 8,000 fpm pitot tube (30,000 fpm FS); 50 to 5,000 fpm AirFoil; 50 to 2500 fpm VelGrid.
DIFFERENTIAL PRESSURE: ±2% of reading ± 0.001 in wc from 0.0500 to 50.00 in wc, (0.0001 to 60 in wc FS); 20 psid safe pressure.
TEMPERATURE: ±0.5°F accuracy from 32°F to 158°F.
AIR FLOW: Accuracy is ±3% of reading ±7 cfm from 100 to 2000 cfm; range is 25 to 2500 supply, 25 to 1500 exhaust with 8400 FlowHood.
ABSOLUTE PRESSURE: ±2% of reading ±0.1 in Hg from 14 to 40 in Hg referenced to vacuum. 60 psia maximum safe pressure.
AMBIENT RANGE: Full range compensation from 40°F to 140°F.
AIR DENSITY CORRECTION: Local or standard (mass flow) air density correction range is 14 to 40 in Hg and 32ºF to 158ºF.
POSITION SENSITIVITY: Unaffected by position.
MEMORY: 200 readings, sequence labeled, sum, average, minimum and maximum.
CALIBRATION: Calibration certified NIST traceable.
READOUT: 10 digit, 0.4", high contrast, liquid crystal display.
METER HOUSING: High impact, molded, "T" grade ABS.
METER WEIGHT: 38 ounces (1.08kg), including batteries
SIZE: 6.0" x 6.4" x 2.7" (15.2 x 16.3 x 6.9 cm)
CONNECTIONS: 1/4" OD slip-on for 3/16" ID soft tubing.
BATTERY LIFE: 3000 readings per charge, 500 recharge cycles.
Shortridge Instruments, Inc. developed the analog FlowHood in 1974, and invented the line of unique electronic digital readout AirData Multimeters in 1984, providing direct readout of air flow, velocity, pressure and temperature. The rugged, reliable field instrument automatically zeroes and automatically corrects for the density effects of barometric pressure and temperature. Readings in English or metric units. All calibrations certified NIST traceable. Calibration program maintained in compliance with ANSI/NCSL Z540-1, ISO 17025 and MIL-STD 45662A.