Test at Ceiling Diffusers to Balance Rooms
Featured Product from Shortridge Instruments, Inc.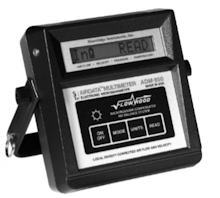 Test Flow and Pressure at Ceiling Diffusers to Balance Rooms
The Airdata micromanometers are handheld portable multimeters for measuring velocity, pressure, and temperature of air at HVAC diffusers. They can also be used to obtain direct air flow readings with a FlowHood kit. AirData Multimeters are used by air balance experts in demanding air distribution applications for maintaining air quality control.
AirData Multimeter ADM-850L
ELECTRONIC MICROMANOMETER
The ADM-850L Multimeter offers the unequaled accuracy and flexibility of the Shortridge Instruments AirData Multimeters, in a simplified model, and at a reduced cost.
ECONOMICAL PRECISION Multimeter
STATIC PRESSURE MEASUREMENT
AUTOMATIC ZERO AND RANGE SELECTION
ACCURATE TEMPERATURE READINGS
FAST, ACCURATE DUCT VELOCITY TRAVERSES
25 TO 2500 CFM RANGE
AIR DENSITY CORRECTED FLOW and VELOCITY

This meter may be ordered as part of the ADM-850L Multimeter Kit, complete with accessories for measuring air velocity, pressure, and temperature, or as part of the CFM-850L FlowHood kit.
Shortridge Instruments, Inc. developed the analog FlowHood in 1974, and invented the line of unique electronic digital readout AirData Multimeters in 1984, providing direct readout of air flow, velocity, pressure and temperature. The rugged, reliable field instrument automatically zeroes and automatically corrects for the density effects of barometric pressure and temperature. Readings in English or metric units. All calibrations certified NIST traceable. Calibration program maintained in compliance with ANSI/NCSL Z540-1, ISO 17025 and MIL-STD 45662A.