Professional grade, UL Listed electrical tape
Featured Product from Shurtape Technologies, LLC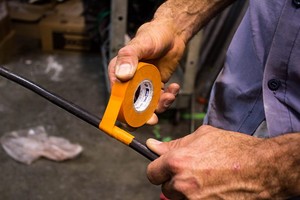 EV 077C
EV 77 CLR Professional Grade, UL Listed, Colored Electrical Tape
Professional grade, 7.0 mil, all-weather vinyl tape used for color-coding and phase identification in electrical applications in temperatures ranging from 0 F to 220 F. UL Listed and CSA Approved, EV 77C colored electrical tape is lead free, flame retardant, and is engineered with a polymeric backing construction, as well as a specialized method of bonding the adhesive to the vinyl backing, which allows the tape to be highly conformable and deliver a moisture-tight seal, even in extreme temperatures.
Features & Benefits
7.0 mil, professional grade electrical tape
All-weather performance
High tensile strength
High performance in a wide temperature range
Resistant to UV, oils, acids, alkalies, corrosive chemicals and water
Easy to handle 1 inch core
Also available in black
Tape University is a Leading Online Learning Resource for All Things Tape.
We're committed to building the best learning experience by providing the tape industry's most comprehensive place to learn about the past, present and future trends.
Watch>>Shurtape® Brand Essence
No matter what line of work you're in,
Shurtape gets the job done.
We offer a full portfolio of pressure sensitive tapes designed to deliver exceptional performance and superior results.

Feel the Quality.
Trust the Performance
Engineered to meet and exceed your expectations for quality and performance in a range of electrical and mechanical applications.
Explore Electrical Tapes
Airtight Performance.
No Matter the Job.
Whether you're making a general repair or installing an entire HVAC system, we have you covered with the tapes you need to meet the code, perform in the cold and deliver superior results.
Explore HVAC Tapes

Secure Seals.
Every Time.
Every sealing situation is unique. That's why our portfolio of packaging tapes and tape application technologies is purpose-built for your packaging and case sealing operations.
Explore Packaging Tapes
A Tape
for Every Job.
No matter the job, we have the tapes you trust – and the product features you demand – to deliver superior results.
Explore Industrial Tapes
Shurtape
Shurtape is an industry-leading producer of pressure sensitive tape products. We design, develop, and engineer our tape to meet the most exacting standards. Headquartered in North Carolina, we're a privately owned company, with manufacturing plants in Hickory, Stony Point and Hudson, North Carolina. We're also a world-leader with investments in eight countries on four continents – including a manufacturing plant in Toronto and converting plants in Germany, Mexico, Peru, United Arab Emirates and China. We look far and wide for opportunity – from growing globally to expanding our product offering.
We've been successful because of our emphasis on cultivating long-term relationships based on impeccable customer support. Some of our customers have been with us for 40 years. In addition to customer service, Shurtape stands for dependable quality, reliable performance and on-time delivery on each roll of paper, cloth, film, foil and specialty tapes. That's what drives us. That's our promise to you. We fulfill that promise by investing aggressively in manufacturing improvements, product design innovations, back-office technology, distribution – and in the people who have contributed to the company's growth and success.