Cut Steps Not Corners
Product Announcement from Shurtape Technologies, LLC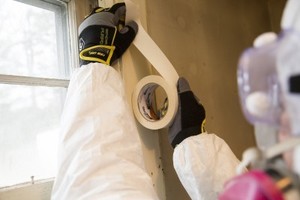 Professional grade, double-sided containment tape used for creating high-performance containment systems for restoration, abatement and remodeling tasks such as painting, cleaning, sanding, mold remediation, asbestos removal and more. Offering a premium grade painter's tape adhesive on one side for 21-day clean removal from a variety of surfaces and, on the other, an aggressive adhesive that securely holds poly-sheeting and other protective coverings, DS 154 offers a one tape, one step solution to help you tackle each job with speed and ease.
Time savings on your mind?
See how DS 154 double-sided containment tape can deliver time savings vs. the traditional two-tape, two-step method of applying painter's tape and duct tape when prepping for restoration, renovation, abatement and remodeling jobs.
Professional grade, double-sided containment tape
Excellent holding ability in both wet and dry environments
Hand-tearable and repositionable
Removes quickly and easily in a single step
Differential adhesive system: premium grade painter's tape adhesive allows for 21-day clean removal from surfaces without damage; specially engineered, aggressive adhesive holds securely to poly-sheeting and other protective coverings
No matter what line of work you're in, Shurtape gets the job done
Watch our video to learn more about the essence of the Shurtape brand
Find us on Facebook® or follow us on Twitter®.
At Shurtape, we design, develop and craft our tape to one simple standard. Yours. We know you demand attention to every detail. We know you strive to do the next job better than the last. We know you won't settle for anything less than exact. It's what has guided and inspired us every day since 1955.
Created in North Carolina as Shurtape Technologies LLC, we're a privately owned company proudly serving a variety of markets, from painting and packaging to HVAC and transportation. And we continually remain engaged with our markets and the customers and craftsmen who use our tape so we can deliver what they need. To the absolute highest standards.
As we continue to grow, the basis of our success remains the same: our relationships with our customers and craftsmen. We're grateful that so many of you have been intensely loyal. It's why we demand consistent product performance, on-time delivery and relentless customer service. It's also why we never stop investing in improving our manufacturing, our products and our distribution.
In other words, we work to do our job the way you do yours.
Shurtape Products Browse By Market:
Green Point Products
Over 25 Shurtape products contribute to LEED® points.
Today, many municipal, state, and national building codes require building materials that qualify for LEED® points from the U.S. Green Building Council (USGBC). Specifying engineers and contractors who know which materials qualify for - or contribute to - LEED® points, get the job. At Shurtape we are proud to be the first tape manufacturer to develop a line of products that help your projects qualify. When these HVAC tapes are combined with other eligible building materials, you may be able to receive credit towards LEED® certification.
Find us on Facebook® or follow us on Twitter®.
*LEED® is a registered trademark owned by the U.S. Green Building Council
---