Knifeless Packaging on Your Mind?
Featured Product from Shurtape Technologies, LLC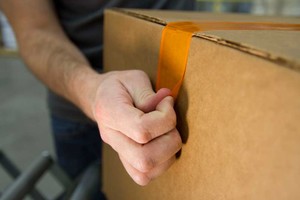 Knifeless Packaging on Your Mind?
Safety and security are high priorities in carton sealing operations – in fact, some manufacturers are taking their safety initiatives a step further with new policies and requirements for their suppliers that cut down on the risk of injury caused by using a knife to open cartons.
Knife cuts account for approximately 30% of workplace injuries, and of those, 70% are lacerations to hands or fingers. Even seemingly minor injuries can cost employers upwards of $40,000! * That's why some manufacturers are challenging their suppliers to eliminate the knife by delivering cartons that can be opened without the use of a knife or sharp object. Eliminating the need to use a knife to open cartons minimizes the risk of worker injury caused by lacerations that occur when opening these cartons. This saves time, money, and frustration, as even small cuts can have a major impact on operational efficiency.
Suppliers are faced with the challenge of shifting away from the traditional method of carton sealing using standard packaging tape applied manually or automatically and adopting either a new method of carton closure or changing their packaging altogether to allow for a knifeless opening. Examples of alternative options given by these manufacturers include pull tape, strippable tape, or tape with some kind of tear or tab feature in the design that allows access without the use of a knife. The tape must also have sufficient tensile strength to prevent shredding or tearing as it is stripped off the container.
Shurtape Technologies, a leading producer of pressure-sensitive tapes, developed its ShurSEAL® Packaging Solutions to address common case sealing issues, including worker injury and product damage caused by knife cuts. The ShurSEAL® solution features Folded-Edge® Technology, which folds both edges of the packaging tape along the length of the carton as it's applied. This edge-folding technique results in a secure, ready-to-open carton seal that doesn't require a knife or other sharp instrument to open. Essentially, it creates a dry edge that allows the consumer to easily grip the tape and remove it by hand, reducing the risk of product damage and worker injury attributed to knife cuts. The reinforced tape edge also provides an extra strong seal by increasing the strength of the tape.
Folded-Edge Technology allows suppliers to continue using the same method of carton sealing that they are accustomed to, without the need to purchase a special kind of strippable or pull tape. The difference is in the application method – in which the edges of the packaging tape are automatically folded while the tape is applied, making it effortless to achieve seals that can be removed by hand.
"We are hearing more and more in the market that manufacturers are challenging their suppliers on knifeless-open cartons, putting some suppliers in a bind as they figure out how to comply with these requirements," said Bradley Dunlap, Product Marketing Manager for packaging tapes at Shurtape. "Shurtape is stepping up to the challenge with Folded-Edge technology, which allows packaging tape to be removed by hand – eliminating the knife from the supply chain. This allows suppliers to continue to deliver their products, without compromising seal security"
Tape University is a Leading Online Learning Resource for All Things Tape.
We're committed to building the best learning experience by providing the tape industry's most comprehensive place to learn about the past, present and future trends.
Watch>>Shurtape® Brand Essence
No matter what line of work you're in,
Shurtape gets the job done.
We offer a full portfolio of pressure sensitive tapes designed to deliver exceptional performance and superior results.

Feel the Quality.
Trust the Performance
Engineered to meet and exceed your expectations for quality and performance in a range of electrical and mechanical applications.
Explore Electrical Tapes
Airtight Performance.
No Matter the Job.
Whether you're making a general repair or installing an entire HVAC system, we have you covered with the tapes you need to meet the code, perform in the cold and deliver superior results.
Explore HVAC Tapes

Secure Seals.
Every Time.
Every sealing situation is unique. That's why our portfolio of packaging tapes and tape application technologies is purpose-built for your packaging and case sealing operations.
Explore Packaging Tapes
A Tape
for Every Job.
No matter the job, we have the tapes you trust – and the product features you demand – to deliver superior results.
Explore Industrial Tapes
Shurtape
Shurtape is an industry-leading producer of pressure sensitive tape products. We design, develop, and engineer our tape to meet the most exacting standards. Headquartered in North Carolina, we're a privately owned company, with manufacturing plants in Hickory, Stony Point and Hudson, North Carolina. We're also a world-leader with investments in eight countries on four continents – including a manufacturing plant in Toronto and converting plants in Germany, Mexico, Peru, United Arab Emirates and China. We look far and wide for opportunity – from growing globally to expanding our product offering.
We've been successful because of our emphasis on cultivating long-term relationships based on impeccable customer support. Some of our customers have been with us for 40 years. In addition to customer service, Shurtape stands for dependable quality, reliable performance and on-time delivery on each roll of paper, cloth, film, foil and specialty tapes. That's what drives us. That's our promise to you. We fulfill that promise by investing aggressively in manufacturing improvements, product design innovations, back-office technology, distribution – and in the people who have contributed to the company's growth and success.