Stucco Tape 101: Water Resistance
Featured Product from Shurtape Technologies, LLC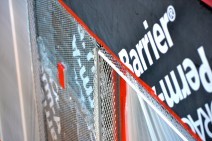 Stucco Tape 101: Water Resistance
Stucco is characteristic of hot, dry climates, but did you know that water plays an essential role in stucco application? Visit Tape University to learn how water is used in stucco application and what that means for your tape.
No matter what line of work you're in, Shurtape gets the job done
Watch our video to learn more about the essence of the Shurtape brand
Find us on Facebook® or follow us on Twitter®.
At Shurtape, we design, develop and craft our tape to one simple standard. Yours. We know you demand attention to every detail. We know you strive to do the next job better than the last. We know you won't settle for anything less than exact. It's what has guided and inspired us every day since 1955.
Created in North Carolina as Shurtape Technologies LLC, we're a privately owned company proudly serving a variety of markets, from painting and packaging to HVAC and transportation. And we continually remain engaged with our markets and the customers and craftsmen who use our tape so we can deliver what they need. To the absolute highest standards.
As we continue to grow, the basis of our success remains the same: our relationships with our customers and craftsmen. We're grateful that so many of you have been intensely loyal. It's why we demand consistent product performance, on-time delivery and relentless customer service. It's also why we never stop investing in improving our manufacturing, our products and our distribution.
In other words, we work to do our job the way you do yours.
Shurtape Products Browse By Market:
Green Point Products
Over 25 Shurtape products contribute to LEED® points.
Today, many municipal, state, and national building codes require building materials that qualify for LEED® points from the U.S. Green Building Council (USGBC). Specifying engineers and contractors who know which materials qualify for - or contribute to - LEED® points, get the job. At Shurtape we are proud to be the first tape manufacturer to develop a line of products that help your projects qualify. When these HVAC tapes are combined with other eligible building materials, you may be able to receive credit towards LEED® certification. *LEED® is a registered trademark owned by the U.S. Green Building C