Smaller Linear Encoder for Mobile Machines
Featured Product from SICK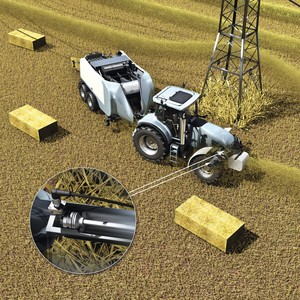 Following the launch of the MAX48 linear encoder, SICK has launched the smaller MAX30 to accommodate smaller cylinders on smaller mobile machines. The MAX series of encoders provide an absolute path measurement system for non-contact and fully integrated position measurement in hydraulic cylinders. It delivers the necessary data for condition monitoring and predictive maintenance, all at no additional cost.
With a 30mm diameter housing size, the MAX30 may be small, but it can withstand harsh operational and environmental conditions for accurate non-contact, absolute positioning sensing for mobile applications. It works well for smaller cylinders on small mobile machines, such as a fork truck, garbage truck, or other vehicles smaller than a bulldozer. It accompanies the MAX48, which measures 48mm in diameter and works well for larger mobile machines.
The measured values and data of the MAX Series of linear encoder opens new possibilities for improving utilization and availability for automating and monitoring the individual work processes of mobile machines. The absolute path measurement system therefore offers comprehensive and future-proof added value, both for manufacturers and operators of agricultural and construction machinery, logistical hoisting and conveying equipment, municipal vehicles, and airport equipment.