Siemens Global Manufacturing Flexibility
Featured Product from Siemens Analytical Products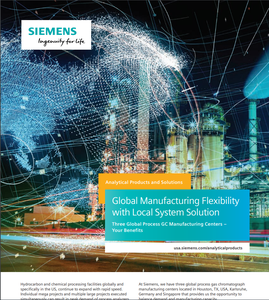 Hydrocarbon and chemical processing facilities globally and specifically in the US, continue to expand with rapid speed. Individual mega projects and multiple large projects executed simultaneously can result in peak demand of process analyzers and turn-key system solutions. Exceeding local manufacturing capacity can put limitation on throughput and can jeopardize customer lead time expectations.
At Siemens, we have three global process gas chromatograph manufacturing centers located in Houston, TX, USA, Karlsruhe, Germany and Singapore that provides us the opportunity to balance demand and manufacturing capacity.
The key to successful balancing is that local engineering and project management are the direct and proven interface to the end user. With this available manufacturing bandwidth, we can satisfy our customers delivery expectations.
Download our new Global Manufacturing Flexibility with Local System Solution brochure to learn more.