SITRANS LU150/LU180 ultrasonic level transmitter
Featured Product from Siemens Process Instrumentation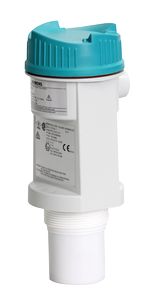 Designed primarily for liquid applications in the environmental, water/wastewater, and energy management industries, the device is ideal for non-contacting continuous level measurement of liquids and slurries in open or closed vessels.
IP68 rated, SITRANS LU150/LU180 has a rugged, fully encapsulated PVDF sensor that is resistant to corrosion, chemicals, and extreme shock.
With only two wires, installation of the unit is straightforward, and its two-button interface makes it both simple to configure and easy to use.
There are many mounting possibilities for SITRANS LU150/LU180, as there are four process connections to choose from, including the 4" Tri-clamp that allows the unit to be removed easily if necessary.
The reliability of the level readings are based on Sonic Intelligence echo processing algorithms that Siemens has been refining for decades. These algorithms differentiate the true material level echoes from the false ones that can result from acoustic or electrical noises, as well as from agitator blades in motion. It's effective, accurate, unique, and it's exclusively Siemens.